Customer satisfaction is our #1 priority!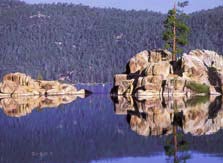 Blue Skies Real Estate and Resort Rentals has over 30 years experience selling and managing homes throughout the Big Bear Lake and surrounding areas. Whether you are looking for a home to buy or rent in Big Bear or the Desert, we will make servicing your needs Priority One.
We have sold thousands of homes, over $450 million in real estate, in every area of the valley and know what our clients are looking for. Lynn and Dixie Wheeler are the Brokers and Owners and are among the top 10 Realtors in sales and listings in Big Bear Valley. Put their 30 years of experience to work for you.

We also manage over 300 full time rental homes located throughout the Big Bear Valley and even the Palm Springs and other surrounding cities in the Desert. From small 1 or 2 bedroom homes starting as low as $500 per month to large Lakefront homes; we have every shape and size to fit every need.
Use our web site to locate a home and even take a Virtual Tour of them without leaving your computer. We have made searching for a home as easy as turning on your computer. No more fumbling through newspapers and calling multiple phone numbers just to find out where a home is; or more about it. One stop at our site tells you all you need to know, in order to decide which home is right for you.
Our office is centrally located in the Stater Brothers Shopping Center and we are open 7 days a week from 8:30 AM to 5:00 PM for your convenience.